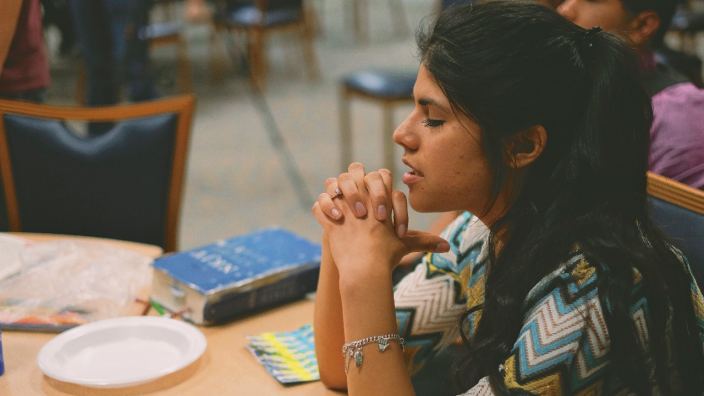 Prayer

Prayer is foundational
It is easy to start "doing" and feel responsible for building a movement on your campus. Action is good, but you want to always maintain dependence on God.
In the book of Acts, whenever you see great numbers of people coming to believe in Jesus, it was after the disciples spent time in prayer. It has been correctly said, "The early church was built on its knees."
By scheduling prayer into your efforts, you are reminding everyone that it is God who moves in the hearts of students. It is only God who draws students to himself. And it is God who works through our lives to help others.

Below are some suggestions of how to incorporate prayer in each phase of the semester.
Beginning of the semester
Prayer walk - Something very powerful happens when we walk the campus in twos or threes praying for the university, professors, students. It's simple to organize: just choose a day and time to pray while walking around the campus. The more we pray for our university the more sensitive we become to what God is doing.


24/7 - Imagine a prayer room open 24 hours a day, 7 days a week. Choose a week, preferably before classes start, and invite people to come and pray in this room. Try to have the room open all the time. Maybe set specific times when people will give a devotional during the week. Decorate the room to make it cozy. Prepare specific prayer requests in a notebook, where others can add to it. Provide a few art supplies so people can express themselves artistically. If possible, bring a guitar. Prepare specific prayer requests for students to pray for the starting semester.
Throughout the semester
All-night prayer meetings on campus or off-campus.


Weekly prayer meetings on campus, at a specific time and place.


Prayer 2020 - Join Cru in praying God will raise up 10 million Christ-centered multiplying disciples to reach the world. Set your phone alarm for 20:20 (8:20 pm) each night. And pray with us:

Lord, Mold our hearts to be one with Your heart. Multiply our lives through others.
Mobilize laborers through our prayers and ministry efforts.

As Cru, we are asking God that 2 million will be raised within universities. In addition, we are working to be on 50% of all university campuses by 2020.
End of semester
Refresh Rooms - The end of the semester when students are stressed, set up a space where people could relax, stretch, sleep on mats, listen to music, read the Bible and pray. A place to enjoy the presence of God. It was also a great way to connect with non-Christian students who came.

WHAT GOD SAYS ABOUT PRAYER
"Clothe yourselves, all of you, with humility toward one another, for 'God opposes the proud but gives grace to the humble.' Humble yourselves, therefore, under the mighty hand of God so that at the proper time he may exalt you, casting all your anxieties on him, because he cares for you." 1 Peter 5:5-7
"I waited patiently for the Lord; he inclined to me and heard my cry.
He drew me up from the pit of destruction, out of the miry bog,
and set my feet upon a rock, making my steps secure.
He put a new song in my mouth, a song of praise to our God.
Many will see and fear, and put their trust in the Lord." Psalms 40:1-3
"Ask, and it will be given to you; seek, and you will find; knock, and it will be opened to you. For everyone who asks receives, and the one who seeks finds, and to the one who knocks it will be opened." Matthew 7:7,8